5 Star Elegance at a 3rd World Price
Posted on December 29, 2009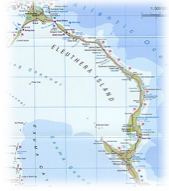 Eleuthera is an island in the Bahamas, lying 50 miles east of Nassau. It is very long and thin- 110 miles long and in places a little more than a mile wide. According to the 2000 Census, the population of Eleuthera is approximately 8,000.
The topography of the island varies from wide rolling pink sand beaches to large outcrops of ancient coral reefs.
The island was believed to have been unoccupied until the first European settlers- puritan pilgrims- arrived in 1648 from Bermuda. These settlers, known as the "Eleutherian Adventurers", gave the island its current name- eleutheria means "freedom" in Greek, while eleuthera means "free". Some people think that Christopher Columbus may have come to Eleuthera before visiting islands in the West Indies.
Recently, many persons of Eleuthera descent have been very successful in the fields of education, construction, medicine, and business. With this, many locals have taken it upon themselves to keep the island prosperous and to provide a top-notch experience for tourists and residents. Additionally, second homeowners provide opportunities for caretakers, domestic help, and home repair and maintenance jobs- not to mention providing a ready market for local restaurants and services. Promises of prosperity…
…WITH 5 STAR ELEGANCE.
If there ever was a perfect getaway… this is it.
Eleuthera features breathtaking beaches, rolling green hills, quaint villages, rugged cliffs, and red soil (good for growing pineapples), and caves. Eleuthera has a number of advantages; it is within close proximity to the capital Nassau, easily reachable from North America, and is large enough to offer a variety of elegance for visitors.
Pristine waters sparkle as far as the eye can see from our amazing oceanfront amenity area. Comfortably relax in one of our poolside cabanas and enjoy a light lunch – or swim over to the pool bar and have them throw another local pineapple in your favorite drink!
TOTAL RELAXATION
This 3rd world country offers 5 star elegance on another level. The sound of the ocean, the freeness in the air, and the opportunity for complete relaxation awaits you. Please click here to capture this remarkable experience…. NEAR HEAVEN EXPERIENCE